The National Association of Law Placement Annual Education Conference took place April 5-7, 2022 in New Orleans, Louisiana.  Due to the global pandemic, this premier event leveraged a virtual format for the past two years. However, attendees were eager to be back together in person for engaging plenaries, educational sessions, and networking.
James Boyle, Director of Recruiting and Nicole Llorenz, Manager, Diversity, Equity, and Belonging from Latham & Watkins, along with Nicky Garcea, Cofounder and Chief Customer Officer at Cappfinity led an interactive panel discussion on innovation in entry level legal recruiting. Lindsey Pollak, workplace expert and a past NALP Annual Education Conference keynote presenter moderated the panel. Conference attendees got a bird's eye view into Latham's comprehensive early career legal recruiting program that provides multiple touch points for prospective associates. Latham's approach is a stand out as it also provides much needed exposure to careers in big law prior to graduation.
The pandemic adversely impacted traditional legal recruiting strategies. However, many courageous  recruiters embraced new strategies, tools, and alternatives to OCI (on campus interviews).  According to NALP's survey of Law Students Who Interviewed with Law Firms for a Summer 2022 67% of students completed an online assessment. Also noteworthy 56 of students reached out to employers outside of  their law school's OCI program. Over  70% successfully secured screening interviews via direct outreach outside of OCI.  These data points underpin the case and pace of innovation in legal recruiting.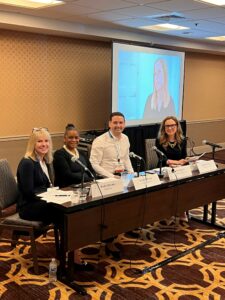 Here are some valuable resources shared during this education session:
The NALP Annual Education Conference Expo Hall also provided a window into the latest innovations  in recruitment technology such as Cappfinity's Simulate, an immersive job simulation that helps legal recruiters analyze candidates and provide a realistic preview of work and life at a firm.
In closing, the conference provided a balanced range of  professional development options for students all the way to seasoned legal professionals. The NALP 2022 Annual Education Conference team delivered a comprehensive program and exceptional professional development experience that left attendees eager for the NALP 2023 Annual Education Conference in Vancouver, B.C.