Virtual Reality Solutions and Client Experience Lead, Lucie Coudret, gives her take on the role of Virtual Reality (VR) in closing the skills gap.
I recently watched the 'New Skills for Fast-Moving Industries' webinar from the World Economic Forum, to find out what they believe will be the top 10 skill priorities for 2027. We know that in this rapidly evolving world, where technological advancements are redefining the nature of work, there is a growing need to close the skills gap and equip individuals with the abilities necessary for the future job market. So, it was unsurprising to find that many of the top 10 are 'soft skills' and/or are linked to digital literacy.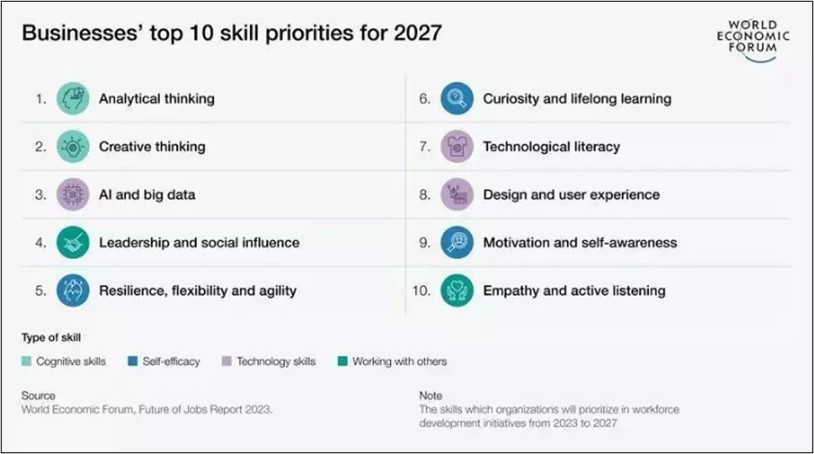 Other estimates suggest that by 2030, nearly 20% of the workforce will be significantly under-skilled for their jobs and 75% of companies have already reported difficulty recruiting qualified talent (2023). In fact, 43% of organizations are already facing the skills gap and a further 44% expect a skills shortage within the next five years (2023).
A general consensus on how to tackle the skills gap is that educational institutions and employers both have a role to play and that given the pace of change, it is no longer a 'nice to have' but a requirement to 'stay in the game,' or even better, to be 'ahead of the game'!… Enter VR!
How can VR bridge the skills gap?
VR is an immersive and transformative technology that holds tremendous potential for building future skills. The developments in immersive technologies really excite me and I think that VR in particular offers a unique avenue for experiential learning and training, which can help bridge the skills gap.
We've found that using an innovative and emerging technology not only helps our learners build their self-awareness and develop new skills but also to feel more confident using this type of technology as well as developing their curiosity to learn more about technology in general.
In effect, using an emerging technology like VR means that you can kill two birds with one stone, by bridging the soft skills and technological skills gap. We've also found that it's not only the learners that benefit from introducing a VR experience, our clients, and therefore the employer organization bridges that technology gap too.
How are our clients using VR to upskill?
At Cappfinity, I've had the opportunity to work with educational institutions and employer organizations that have the same mission when it comes to upskilling, bridging the skills gap, and embracing the technology that is shaping our future.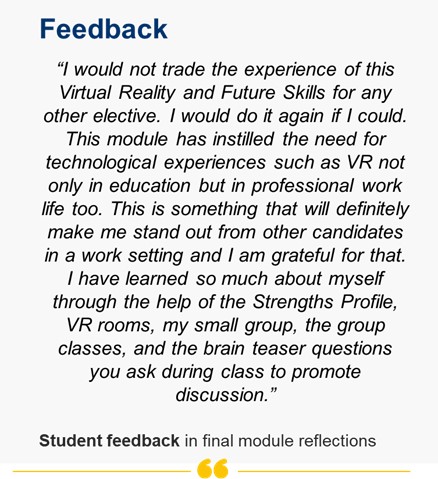 I'm hearing and seeing a trend in how we expect more from our educational institutions, especially higher education to provide learning that reflects the present and future world of work and truly prepares students for the uncertainty and fast pace of change.
Some institutions are dedicated to this same mission, like University College Dublin (find out more here) who we've worked with to create a credit-bearing module for students to support them with attaining the skills they'll need for the future and as they enter the workforce. Students have shared how much they value the learning they gained from the VR module and felt like it gave them an edge when applying for jobs!
It's not only educational institutions that are embracing this technology and the potential for skills development. Organizations are also using VR to prepare their talent as they join their teams to ensure they feel more prepared and build the skills they will need for their new role.
You might be thinking, why use VR instead of traditional methods? VR enables us to learn quicker in an experiential way which is very much needed when we're playing catch-up. In addition, to helping us to bridge both the soft and digital skills gap (two birds, one stone!)
The experiences we've worked on for early careers vary from meeting skills, communication skills, and presenting your ideas to many more, whilst building your self-awareness on your current levels of competence on said skills to continue developing.
How can you harness the power of VR for your organization?
VR has the power to revolutionise skill development, bridging the gap between education and employment. By providing immersive, interactive, and experiential learning experiences, VR enables individuals to acquire essential future skills.
VR is often used for technical skills but the potential for soft skills development is equally as exciting (if not more!) By embracing VR, we can build a future-ready workforce that possesses the skills and competencies necessary to thrive in the ever-evolving landscape of work.
What an exciting journey we're embarking on, where education and innovation converge to shape a more skilled and resilient future workforce.
Get in touch if you're intrigued about the potential of VR in your institution or organization! And why not book a demo?